Function and structure
1.The machine is specially designed for making ladys' pantyline(pad) product.
2.Airlaid paper or cotton core can be used as absorbent material.
3.The surface material can use non-woven fabric or apertured film.
4.The product size and embossing pattern can be changed by changing cutting toolsand gear box.
5.Phase adjusting units are used in the key sections of the equipment, so it can be adjusted during production without stopping the machine
6.Tri-folding packing type can be ordered by customer.
7.It can be equipped with PLC control system, touching screen according to customers` demand.
8.Automatically tension control for raw materail.
9.This machine has the features of high automation, compact structure, convenient operation and easy maintenance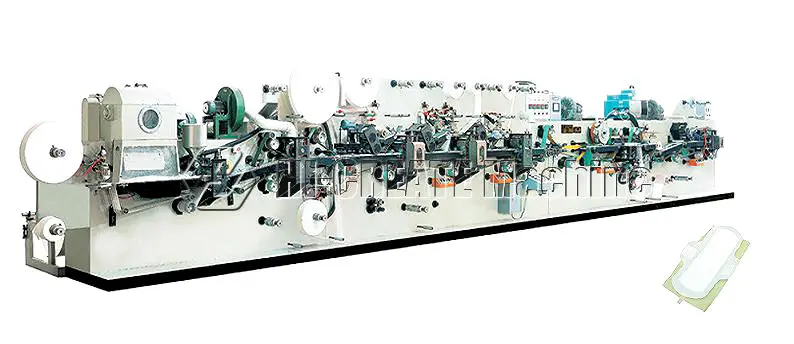 Main technical parameter
Machine Power: 25KW(380V 50HZ) (excluding Glue Machine)
Designed Production Speed: 1000 pcs/ min
Stable Production Speed: 600-800 pcs/ min
Product unfolding size:(150-180)*(50-70 )L*W(can be customized mold size)
Folding size: adjustable
Form: can be customized.
Pattern: can be customized
Diversion trench: Can be customized pattern design
Around Sealing pattern can be customized
Waster percent: ≤2% (excluding caused by glue applicators failure)
Machine dimension: 10.5×1.16×1.8m (L×W×H)
Weight: 10T
Hot Tags: sanitary pads making machine, China, manufacturers, suppliers, factory, turnkey factory, price list, quotation, cheap, customized